Dallas Federal Criminal Defense Lawyers
We Have the Experience to Face Your Charge
An experienced and reputable attorney can be an effective weapon in fighting criminal charges in federal court. At the Law Office of Patrick J. McLain, PLLC, we offer our clients legal advice, guidance, and representation backed by over 30 years of courtroom experience.
Our defense team is led by Patrick McLain, a former federal prosecutor, criminal court judge, and U.S. Marine Corps officer. He knows what you are up against and what it takes to win a fight, inside and outside the courtroom.
Our experienced criminal defense lawyers in Dallas can guide you through the legal process, protecting your rights at every opportunity.
Call our firm at (214) 238-9392 to schedule your initial consultation. Se habla español.
What Is a Federal Crime?
Generally, a federal crime is a transgression that violates the United States federal legal codes. An offense is also considered a federal crime if it crosses state lines. When a crime traverses the boundaries of one or more states or involves federal property, it falls under the jurisdiction of federal courts.
Federal offenses tend to carry penalties more severe than state-level offenses and are prosecuted by government agencies such as the Drug Enforcement Agency and the IRS.
Having a federal criminal defense lawyer on your side can be invaluable if you've been charged with a federal crime. Our attorneys understand how the prosecution gathers evidence and builds your case accordingly, protecting your freedoms and providing an aggressive defense.
Cases We Handle
We handle a wide range of federal crimes, including:
Drug Charges and Drug Trafficking
Computer Fraud and Internet Crimes
Healthcare Fraud including Medicaid and Medicare Fraud
Accounting Fraud
Bank Fraud
Business Fraud and Theft
Business Opportunity Fraud, including Telemarketing Fraud
Social Security Fraud
Mortgage Fraud
Illegal Alien Smuggling
Mortgage Fraud & Real Estate Fraud
Securities Fraud, including Stock Fraud & Insider Trading
Foreign Corrupt Practices Act
Various government agencies can be involved during a federal investigation, including:
FBI
DEA
ATF
IRS
Office of Inspector General
US Postal Inspection Services
U.S. Secret Service
Immigration & Customs Enforcement
Customs & Border Patrol
Joint Terrorism Task Force
"Best attorney"

Mr. Patrick McLain equals instant and good results for you. Hiring Mr. Patrick McLain is the best decision I had made throughout my military career.

- Master Sergeant Michael A Heath Jr.

"A Marine through and through. He is dedicated to taking care of his clients."

He is an excellent lawyer who gives his all for you and gets things done. He has a no-nonsense approach that gets you results.

- Scott S.

"First class lawyer!!!!!"

Patrick saved my career and my life by proxy, he did everything and more you would HOPE for from a lawyer. Patrick is what you need if you want to win your case!

- David L.

"If anyone needs an attorney that will stand with you during your time of trouble, look no further."

Patrick has truly become a good friend and if anyone needs an attorney that will stand with you during your time of trouble, look no further. Patrick J. Mclain is this man.

- Child Abuse Client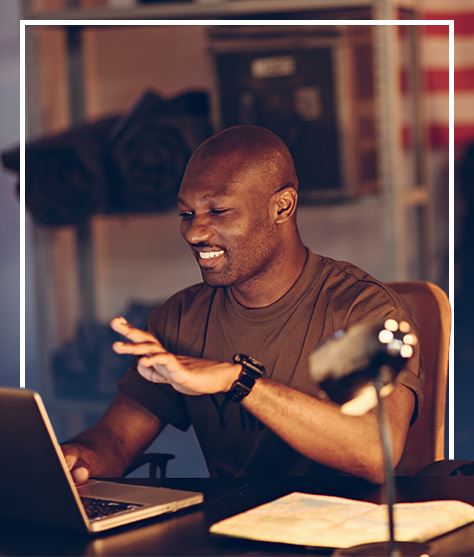 Can I Face Charges in Federal & State Court?
The United States Constitution's Fifth Amendment protection against double jeopardy prevents an individual from being tried twice for the same offense; however, it does not apply when separate sovereign entities bring forth charges for the same crime. This is due to something called the "dual sovereignty doctrine."
The dual sovereignty doctrine establishes that a state government and the federal government are separate sovereigns, each with its own laws and associated penalties. If a crime violates both state and federal law, you can be theoretically charged in both state and federal court; however, this is not likely. In most cases, legal professionals working for the state and federal government will determine at which level you will be charged.
Federal Investigations
A federal investigation is initiated when authorities have reason to believe that a federal crime has been committed. This process typically commences before any charges are formally filed and can span weeks, months, or even years.
During a federal investigation, the federal government, employing the resources of agencies like the FBI, DEA, or IRS, gathers evidence related to an alleged crime. This evidence collection can involve various activities, from executing search warrants and conducting surveillance to interviewing witnesses and suspects.
The collected evidence is then presented to a federal prosecutor, who reviews it to decide whether there's sufficient proof to justify charging someone with a federal crime. The decision to proceed with charges can lead to an indictment by a federal grand jury, a group of citizens convened to evaluate the strength of the prosecutor's case.
The gravity of being the subject of a federal investigation cannot be overstated. Such a situation demands a careful and strategic response guided by an understanding of federal law and procedure. Our team can help you through the process, from the first sign of an investigation to your case's conclusion.
Understanding The Federal Court System
The United States federal court system is a complex network of courts with jurisdiction over matters involving federal law. These courts function independently of state and local courts and have their own rules and procedures.
The federal court system encompasses three levels:
U.S. District Courts are the trial courts of the federal system. They handle a wide range of cases, such as violations of federal laws, constitutional disputes, cases involving the U.S. government, and more. If you are charged with a federal crime, your case will begin in a U.S. District Court.
The U.S. Courts of Appeals, or Circuit Courts, hear appeals from the District Courts. If you lose your case at the trial level, you can appeal the decision to one of these appellate courts. There are 13 Circuit Courts, twelve of which are geographical circuits. The Fifth Circuit covers Texas.
At the top of the federal court system is the United States Supreme Court, which hears a small percentage of cases from the U.S. Courts of Appeals. This court has the final say on matters of federal law, including the U.S. Constitution.
What Happens If Convicted of a Federal Crime?
The consequences of a federal crime conviction can be significant and often include both immediate and long-term effects. Immediate consequences may consist of federal imprisonment, substantial fines, and mandatory restitution to victims. However, the impact extends beyond these punishments. In some cases, a federal conviction can result in the loss of certain civil rights, including holding public office, serving on a jury, or possessing a firearm.
A criminal record can create obstacles in various aspects of life, such as securing employment, obtaining housing, or receiving certain licenses. Federal crimes are also often subject to mandatory minimum sentences, which restrict a judge's discretion in sentencing.
Don't Wait—Contact an Experienced Federal Criminal Defense Attorney Today
Our Dallas federal criminal defense attorneys take pride in the legal services they provide. They have the resources and experience to handle even the most complex criminal matters.
Our clients rely on us to protect their lives, reputations, and freedoms when the stakes are at their highest. When you or someone you love faces charges in a federal court, don't hesitate to contact a powerful advocate at the Law Office of Patrick J. McLain, PLLC.
Contact us online or call (214) 238-9392 today to schedule a consultation with an accomplished Dallas federal criminal defense lawyer. Our phones are answered at any time of day or night so that our clients can contact us 24/7.